The award season is well and truly underway, and after an amazing experience on Sunday I'll be first in the queue to attend next year's Oliviers!
Celebrations come in many forms whether it be unexpected good news, big life events, the realisation of a goal or an annual party or award ceremony.
Every time I have a reason to celebrate it makes me reflect on all the good stuff that goes on throughout our lives.
For us mere mortals life isn't a series of red carpet events and award ceremonies, however there are lots of things we do every day that can be overlooked or just seen as normal day to day activities.
Life for all of us is a journey and our experiences along the way define who we are, the way we view others and the world around us. For many the path can be difficult, challenging and a battle at every step and the importance of celebrating little wins along the way is important.
It's quite usual at work to have goals defined for us that allow our performance to be measured and hopefully linked to some kind of reward and recognition system. However even in this environment we don't always think to share everything we do or achievements can be overlooked or undermined by things that don't go quite so well.
We hear a lot these days about mindfulness which is an ancient Buddhist practice which has a very simple concept at its heart which focuses on paying attention to our purpose in the present moment. We spend a lot of time reflecting on our past, planning for the future and forgetting to enjoy the moment, mindfulness, allows us to embrace these moments.
Research shows that our minds will regularly wander and with practice we can become mentally fitter by taking more control over the focus of our attention. Celebrating the day or more specifically the moment allows us to choose what we focus on…and builds our confidence and self-belief and the enjoyment of a moment. Without this focus we will often allow our attention to be dominated by the stresses in our lives, either real or imagined and which takes us away from the present moment.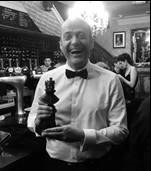 So even if you don't get the chance to win a specific award, remind yourself regularly about the successes in your life. If your mind begins to wander, you start to worry about something or generally feel down about yourself – refocus on positive moments, relive them in your mind, celebrate and smile…
Occasionally you may find a real award comes into your possession, in which case take the opportunity to imagine it's your own!
Four Steps Training can support you or your organisation in every aspect of personal development, so do get in contact. From career coaching to succession planning, running development centres and psychometric profiling we have experts ready to help.