On a coaching skills programme I ran in London last year I completed a quick warm-up activity with the group where they had 3 minutes to draw a house.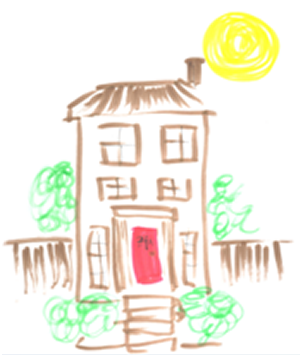 Afterwards, the group asked if there was any way of analysing their drawings and after a quick search on the internet I found this additional activity
Before reading any more, get a piece of paper and give it a go!
The analysis goes likes this:
The house represents you – if your windows and doors are open it would imply you are open to the outside world, if closed then the opposite is true and you are less open to new things and the unknown. The more complex your drawing
is the more complex you are as a person.
The tree represents your mother – drawing a large tree would indicate you idolise her, if the height of the tree is the same height as your house then you see her as a close friend.
The sun is your father and the closer it is to your house then the better you get on. If the sun is rising or obscured by clouds the less open you are with one another.
The river represents your friends and again the closeness to you house indicates how close they are to you. If the river is long and wide then you have a wide range of interesting friends.
Finally, the snake represents hardships and problems. If the snake is on the house then the problems are yours, in the tree then your mothers and so on…
Having completed the activity the MD of the company commented on how grand one of the team's house was. Julia, the lady in question explained straight away that it was her dream house in her favourite location of Holland Park.
Later on during the course we looked at goal setting and I was sharing an article I had read recently where the author said that setting goals was a bad thing as it just set you up for disappointment and made you unhappy in life.
Personally being an advocate of setting SMART goals I challenged this view as I believe it is all about setting the right goals.
For those of you new to SMART it stands for:
S pecific
M easurable
A chievable
R elevant
T imebound
Some trainers may tell you the R stands for realistic, however I always think this is too similar to achievable.
Now just being able to recite SMART isn't as important as how well you use it to challenge the effectiveness of your goals.
If you assess how achievable your goals are and whether they are truly relevant to you i.e. understanding why you really want this thing / success, then you should avoid setting yourself 'disappointing' goals.
The whole discussion led to a practice coaching session between the two delegates about whether a house in Holland Park would 'just be nice' or whether it was something worth working towards.
Goals are naturally all very personal and when ill set can lead to disappointment, however if SMARTly set they can allow you to grasp opportunities when you see them and also bring great joy and rewards.
For more information on goal setting or to arrange a Coaching Skills programme for yourself, contact Four Steps Training as we would love to help you achieve great success.
For those who may be interested, Julia's drawing is the one that heads this article and the last time we spoke she is still working towards it!