No surprises that across the world, we are all facing challenging times.
The uncertainty of COVID-19 has been all consuming, and the impact to those directly or indirectly affected is both immensely sad, and overwhelming.
Like many businesses in the early stages of the pandemic our work diary began to fall apart, and we had training courses being postponed, or cancelled by the hour.
However, technology and the need to be innovative in the way we work has seen a marked change in the delivery of our courses.
Zoom has become our online platform of choice, and in many ways replicates a training room very successfully.
The use of whiteboards, breakout rooms, and screen sharing has worked really well, and the opportunity to 'touch up my appearance' has knocked years off me!
As you can see from this snapshot, trainees engage well, tend to be more focused, and still have fun along the way: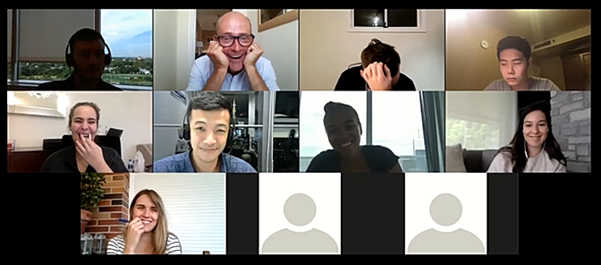 I was also able to support this particular group in providing post programme coaching, which meant I travelled the world in a matter of hours.
The first trainee stayed up late for their coaching in Sydney before I moved on to Singapore, Hong Kong, Dubai, Switzerland, Spain, France, London, Toronto, New York, Miami and end up in Sao Paulo for lunch!
Although face to face would always be our preferred means of delivery, in this still very unsettled world the use of Zoom makes perfect sense for any employer.
With many staff having to work remotely, online programmes can be amazingly cost effective, whilst creating virtual team building opportunities for everyone involved; a great way to break the monotony, and challenges of working on your own.
Travel and venue costs are removed; training materials are online rather being printed, and anywhere can become a training venue – one set of trainees recently attended a course from the cabs of their individual vans!
We strive to make the training as interactive as ever, with tweaks required for the new virtual world. On a recent course I asked the group to stand up for an activity, and a lovely lady from Miami leaned into the camera and admitted she hadn't dressed for standing up that day!
As we have all come to realise, the world is never going to be quite the same again, and the way we communicate, work with one another, and engage with our customers and staff will need to reflect this.
The late, great Aretha Franklin may be able to give us some insight here if we look to the lyrics of her classic song Who's Zoomin':
Guess you believed the world
Playin' by your rules
Here stands an experienced girl
I ain't nobody's fool, uh, bump you
The relevance of the words is uncanny; in a world where businesses need to be cannier than ever before.
So if you are looking to 'stand with experienced staff', making sure you 'ain't nobody's fool', then we'll happily 'bump you' into 2021 and beyond.
Online versions of all our courses can be effectively delivered by our experienced training team, along with team building events, webinars, and ongoing coaching support.
We wish everyone the best of health during these uncertain and testing times, and if you need help in developing, and some guidance along the way, then you should be Zoomin' us at Four Steps Training.
Let us know how we can help at enquiries@fourstepstraining.com, or call us on 023 9248 1549.